Environmental policy
Mountain Skip Hire are committed to sound environmental practice and will plan and update its practices in response to advances in technology and new understanding in environmental science.
Mountain Skip Hire constantly review its environmental objectives and targets. The company is committed to increase recycling.
Environmental Principles:
The company is committed to continual improvement on environmental issues where economically feasible.
We will minimise the production of waste where possible and any disposal of waste produced will be carried out with due care for the environment.
We are committed in the prevention of pollution in all activities.
We will ensure that the transport of raw materials and of products is carried out in the most environmentally responsible way. Our vehicles will be made as fuel efficient as possible and their routings will try and reduce environmental impact on local residents.
We will try to minimise the use of new products where other recycled materials are a suitable substitute.
Where waste materials or products can be recycled we will make every effort to ensure that they are recycled in an environmentally responsible way in order to conserve resources.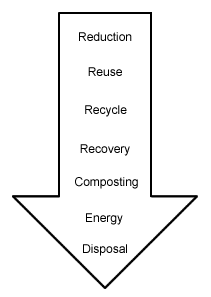 At Mountain Skip Hire we support the government and European Union policies intended to reduce waste and increase recycling, in conjunction with the waste hierarchy.
The waste hierarchy is a guide when determining the best practicable environmental option (BPEO). It represents a logical process for prioritising waste management.
The priority is to prevent or reduce waste
Recycling or composting are lower in the waste hierarchy as these options require additional energy and resources to reduce waste levels
Energy generation is a recovery option but it is lower in the waste hierarchy
Disposal is the last resort once all other options have been considered.
Large increases in landfill disposal charges combined with an annual escalation in landfill tax will result that waste minimisation and recycling are no longer an option but a necessity for all businesses.
Businesses that are proactive in waste recycling see this as an opportunity to get ahead of the competition. Mountain Skip Hire can help businesses to adopt higher environmental standards. We can advise and assist forward thinking companies in how best to improve their recycling performance in conjunction with a reduction in waste production.